Tensar® uniaxial (RE) geogrids are the most advanced geosynthetic made for soil reinforcement, specifically developed for the construction of structures such as retaining walls, load bearing bridge abutments, steep slopes and slip repairs. Made from high-density polyethylene (HDPE) resins, the geogrids can carry high tensile loads applied in one direction (along the roll length) and provide superior load transfer from the soil to the geogrid with their open aperture structure that interlocks with fill material.
Tensar RE Uniaxial geogrids achieve their strength by punching and drawing a homogenous polymer sheet to provide a uniform, consistent product that does not require weaving, coating or welding to maintain the product's integrity. This unique process provides superior junction strength, allowing high-strength connections to other rolls of geogrid or facing components, for example Keystone TW3. 
Tensar RE Uniaxial geogrid is suitable for a wide range of applications from shallow slopes to vertical walls. It is one-of-kind as it can be joined using bodkins to reduce wastage on site and provide an efficient mechanical connector for concrete panel retaining walls. 
Image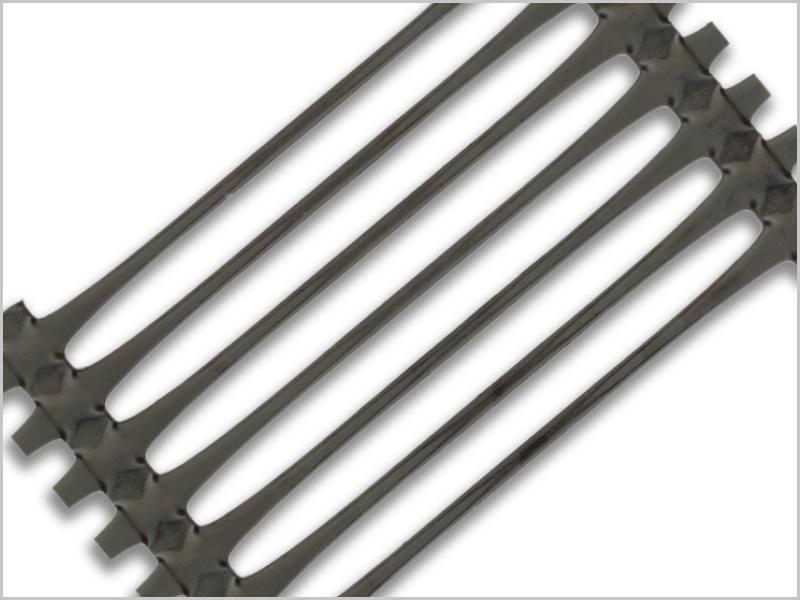 WHY CHOOSE TENSAR RE UNIAXIAL?
Designed to interlock with a wide range of fill materials with its long, slim apertures and integral junctions
Versatility to connect with several different block systems, concrete panels and steel mesh panels to form a retaining wall and can also be used as a wraparound facing
Highly oriented polymer structure to resist elongation (or creep) under sustained tensile loads
Allows slopes of any angle to be constructed using a wide range of fills
A fast, cost-effective way of building embankment and slip repairs that require a steep face angle
Highly durable and robust with independently certified long-term strength properties; and a design life of 120 years
Resistant to installation damage and chemical or biological long-term degradation
Available in six grades:  RE510, RE520, RE540, RE560, RE570 and RE580.
Tensar RE Uniaxial geogrids are accredited by several independent government and other certifying agencies around the world. Manufactured in accordance with Quality and Environmental Management Systems which comply with the requirements of BS EN ISO 9001:2015 and BS EN ISO 14001:2015 respectively.
Tensar RE Uniaxial geogrids meet the New Zealand Transport (NZTA) clause 6.8.1 of the Bridge Manual 3rd edition. 
TensarSoil design program is available to allow the design engineer to produce designs for reinforced soil walls, slopes and bridge abutments. Link here
APPLICATIONS
Embankments
Reinforced Slopes & Retaining Walls
SECTORS WHERE THE PRODUCT IS UTILISED